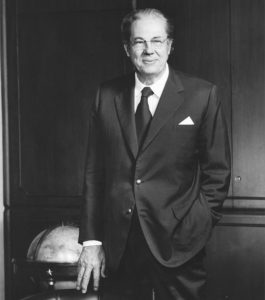 The Roy J. Carver Charitable Trust is one of the largest private philanthropic foundations in the state of Iowa with assets of more than $400 million and annual grant distributions of over $16 million.  It was created through the will of Roy J. Carver, a Muscatine industrialist and philanthropist, who died in 1981.
Since the beginning of its grant-making activities in 1987, over $400 million has been distributed in the form of some 2,500 individual grants. Biomedical and scientific research; primary, secondary and higher education; and other issues related to the needs of youth are the program areas of greatest interest to the Carver Charitable Trust.
Educated as an engineer and possessing the drive and tenacity of the classic business entrepreneur, Mr. Carver began his career in the late 1930s and 1940s making high quality contractor pumps at the Carver Pump Company in Matherville, Illinois and later in Muscatine, Iowa. In the early 1950s, he launched Carver Foundry Products to supply the molds for his pump company. Then in the late 1950s and 1960s, he started the Bandag Company in Muscatine, a business that eventually became the world's largest producer of tire retread materials and equipment for the transportation industry.
Mr. Carver had a passion for quality in all that he undertook. He had a lifelong interest in aviation and world travel, and spoke five languages fluently. He was a generous man, always willing to help people in need. He was especially interested in helping young people get a good education, as well as in supporting research activities to advance scientific knowledge and improve human health.
Mr. Carver remained active in his various businesses and philanthropic efforts until his death at the age of 71. His commitment to youth, education and research forms the cornerstones of the Charitable Trust he established to fund these and other interests in perpetuity.